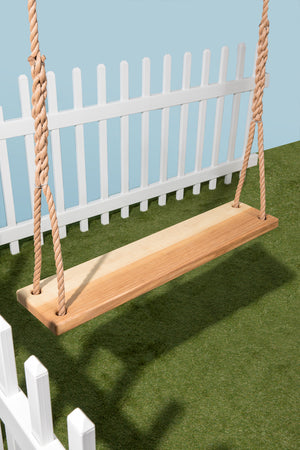 Limited Edition Double Bench Swing
Sale price Price $200.00 Regular price Unit price / per
The Limited Edition Double Bench Swing is just what the name describes; an old-fashioned rope swing, simple yet beautiful. Our Double Bench Swing is hand made from reclaimed Ash and big enough to fit two. Each swing seat is made from one solid piece of hardwood that is kiln dried, sanded and finished with a coat of Thompson's Weather Sealer to help protect it from the elements and bring out the woods natural beauty. Two ¾" light brown polypropylene ropes are then hand spliced (woven) to the seat. The tan polypropylene rope we use is designed to blend in with its natural surroundings and compliment landscaping. It is meant to only be seen when someone is enjoying it. Children will spend hours playing on their Original Tree Swing and build memories that will last a lifetime. *****This item ships out via UPS and can not deliver to a PO box.

* 300 lb weight limit - Ages 3+

* How are you going to hang your swing? Please take a look at our shop and consider adding hanging hardware to your order.
Longer Rope: Swings with longer ropes are available in the drop down. Contact us if you don't see the length you need and we will set up a custom order for you. 
Size & Materials: Our swing seats are made from Ash which is a strong and durable hardwood. Swing seats measure 36" long by 8" wide and a sturdy 1 1/2" thick. Our rope is ¾" diameter light brown polypropylene. This rope is smooth to the touch, shrink, stretch, rot, UV resistant and just generally looks and holds up better than sisal or manila rope.
Care: We recommend that you apply a coat of Thompson's Weather Sealer each spring and fall to help protect your swing from the elements. 
*Color and grain pattern will vary in each swing seat